As you can imagine, we here at HHF have been following the Partners in Preservation contest pretty closely. For those unaware of Partners in Preservation, it is a community-based initiative program that began in 2006. Each year they focus on a different city and select a list of local historic sites to receive grant money to fund restoration projects. And then this is where the fun begins: the list is handed over to the public who then votes for their favorite site to receive funding.
In 2012, 40 historic places throughout the five boroughs of New York City were chosen, the public voted for a month, and now we finally know who the winners are!
While I personally voted for the Woodlawn Cemetery in the Bronx (because I'm creepy like that), I'm still pretty jazzed about this year's winners: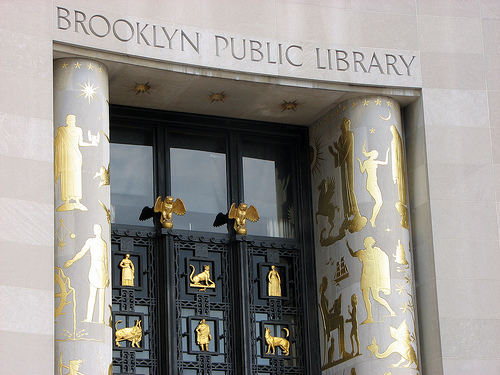 Look at these amazing doors on the Brooklyn Public Library! (Source)
One of the windows at Congregation Beth Elohim in Park Slope, Brooklyn (Source)
The New York Botanical Gardens' Rock Garden (Source)
Bartow-Pell Mansion Museum gardens will be getting a facelift (Source)
Don't feel bad if your favorite site didn't get any dough: according to the Partners in Preservation website,
A Partners in Preservation advisory committee of community and preservation leaders, will select sites that will receive the rest of the $ 2.1 million in grants which will be announced in June.
Who did you vote for?